Ok, I am totally addicted to Stampin' Up!'s Lighthearted Leaves Stamp Set!
I

'm really happy with this card!

I love the smooth look of the 'Inlaid' Technique & the 'Quick Colouring' Technique for fast and stress free colouring.
My Style Info
You might be thinking this card doesn't look too simple because of the intricate colouring-in, but it is!
The trick is to Heat Emboss the Leaf image with White Embossing Powder, and then colour in using Stampin' Write Markers.
The embossing keeps the colour within the designated lines and does not let it bleed into the next space.
Colour won't stick to the embossed lines either. If you do get ink on the lines, just wipe away with paper towel or tissue.
If the Leaf was stamped in ink, permanent or not, it would be really hard to avoid colour bleeding into the next space and obliterate the outlines, therefore I know for myself, I would avoid it!
So this is an easy solution to cut away the stress and still get a pretty hand coloured colourful image!
I've

'

Inlaid'

the leaves -

Here's How.

Die cut both leaves from your covering Whisper White Card Piece, then emboss with the 'Wonderland' Embossing Folder.
Wrap with Crushed Curry Twine, fixing it at the back.
Using Multipurpose Liquid Glue adhere straight onto the card base.
Use glue again to fix the Leaves in place.
I looove that Lighthearted Leaves has matching Dies - Leaflets Framelits; that equals NO hand cutting; and they are a must for this Technique.
The Leaflets Framelits Dies also match with 'Vintage Leaves' Stamp Set and is available as a Bundle so you'll save 15%! (Annual Cat' Pg. 88).
I've used the Vintage Leaves Bundle on my card a few posts before this one.
The Gorgeous 'to die for' Lighthearted Leaves Stamp Set!!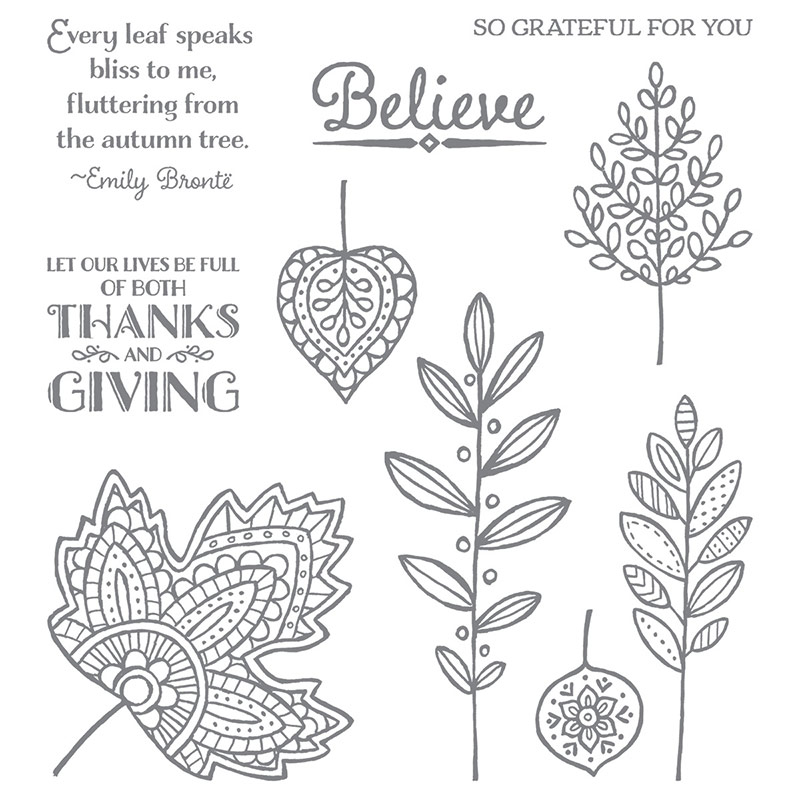 SHOP NOW 24/7 - Please Click Here
I hope you'll give today's technique a try. Please let me know how you go!
If you have any questions on today's card, or would like help with anything Stampin' Up!, please email me or leave questions in the comments section below and I'll get back to you ASAP.
If you like today's card, please let me know! I'd love to hear from you!
Happy Creating! Angeliki :)
My Star Ingredients for today's Card. Click products to shop on-line!